Lovebird Books & Magazines
Books about lovebirds. Love bird Magazines.
Recommended reading for lovebird care.



Rosy-Faced Lovebird
Colour Genetics
(10/13/2010)
by: Lambert M. Surhone (Editor)




Lovebirds ****
(3/1/2005)
byMary Gorman





Lovebird
(6/28/2002)
by Alexander James






The Guide to Owning a Lovebird
(10/1/2001)
by David E. E. Boruchowitz






Lovebirds Today: A Complete and Up-to-Date Guide
(5/28/1997)
by Karl-Herbert Deply






A Complete Introduction to Lovebirds
(11/28/1995)
by George A. Radtke





Breeding Lovebirds
(12/28/1990)
byTony Silva


Lovebirds: A Complete
Guide to Caring
for Your Lovebird
(10/15/2006)
by Nikki Moustaki ,
Eric Ilasenko (Photographer)



New Owner's Guide to Lovebirds
(9/28/2003)
by Nikki Moustaki




The Lovebird Handbook *****
(10/28/2001)
by Vera Appleyard





Lovebird: An Owner's Guide
to a Happy Healthy Pet
(11/28/1997)
by Pamela Leis Higdon






The Colored Atlas of Lovebirds
(3/28/1997)
by Alessandro D'Angieri





Lovebirds: Everything About Housing,
Care, Nutrition, Breeding, & Diseases;
with a Special Chapter
on Understanding Lovebirds
(8/1/1995)
by Matthew M. Vriends



Lovebirds
(9/28/2007)
byJulie Mancini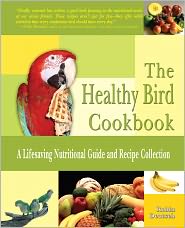 The Healthy Bird Cookbook: A Lifesaving Nutritional Guide and Recipe Collection

is the perfect solution to all of your bird's nutritional needs. It provides 150 creative, healthy, and easy-to-make recipes that are appropriate for almost all species of pet birds. The book also offers a thorough, extensive section on avian nutrition that clearly explains the roles of pellets and seeds, the food groups, vitamins, minerals, and amino acids in your bird's diet.




indoor and outdoor bird aviaries
---