Hello!
I am lovebird baby VBL - 232, I was hatched on 11/24/17. My parents are Poseidon & Odessa I am a violet peachface lovebird baby, I am currently being hand fed by my breeders. I should be fully weaned and ready for a new home between January 15th - January 22nd.. You can see me by scrolling down and clicking on the pictures below. If you think I'm just the cutest thing you've seen and would like to meet me in person call my breeder, Michele now and set a date for us to meet. If you'd like to know if I'm male or female not a problem, just pay a small lab fee and Michele can have me DNAed for you.

12/5/17 update
Pic Pages uploaded - We are NOT taking deposits yet!

12/10/17 update
I am growing very well - I was banded today. I'm still alittle small so my breeder will wait a few more days before starting the hand feeding. new pics coming soon.


12/13/17 update
I am now available to be reserved and am currently being hand fed. I'm pretty dark which means I mostlikely have a double dark factor making a dark steel blue/grey - half face white and cream/orange colored crown colors as an adult.

Click images for larger view.
VBL-232 peachface lovebird baby
Sorry I'm RESERVED for Kim : Adoption Fee $100 - - -


---

When I'm ready to go home with you, my breeder includes lots of Free Stuff, which includes great information about me and lovebirds in general in a specially designed Care Package. So you will know how to properly take care of me and learn lots of cool information about me.


Care Package Folder with lots of lovebird care info
a hatch certificate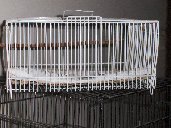 first wing clippings FREE
FREE sample bag of pellets,
FREE sample bag of seed
FREE sample bag of millet
piece of millet for the ride to their new home.
FREE toy
FREE "take me home" travel cage (value $13) W/ perch


PLEASE NOTE: you can also get a Medium Deluxe 9x7x11.5 take home cage
(value $20) with 2 feeder cups, perch and a swing
Available for only $10.00 - when buying a bird (colors vary)



Call Me Today... I can't wait to meet you..

Be sure to ask about the great deals on cages, stands and cage starter kits that are available : )